A Guide to Portland's Heritage Trees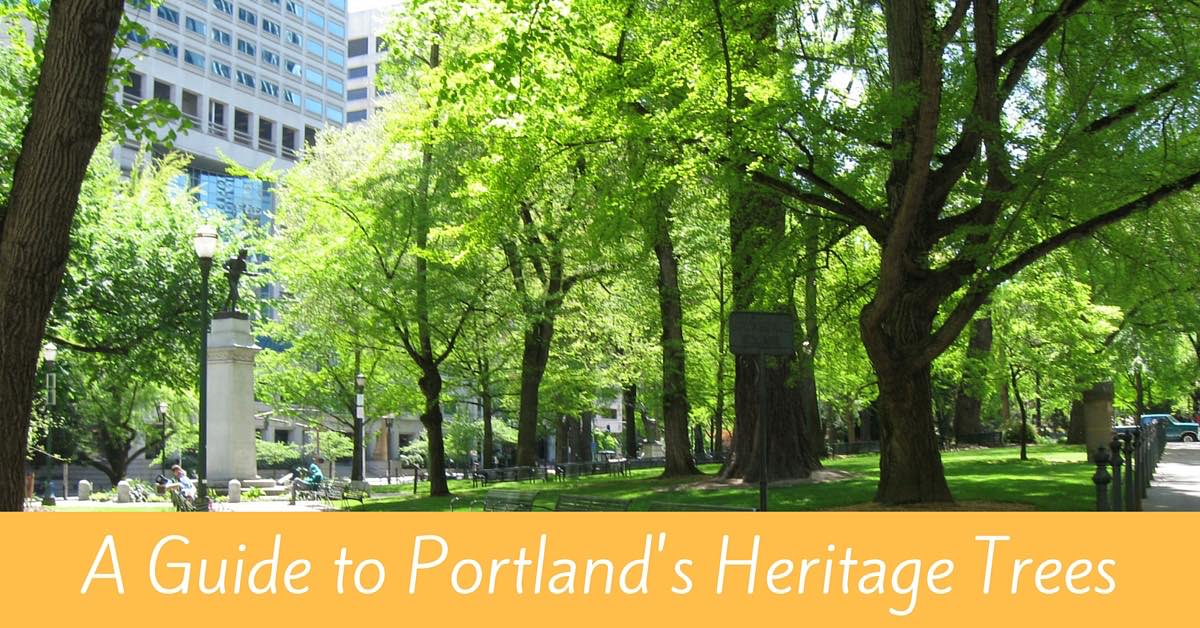 I can't think of another city with as much greenery and as many beautiful trees as Portland, can you? The Portland area is home to Forest Park, one of the biggest urban parks in the United States and it's just filled with beautiful evergreens. Then there are all the other parks scattered around town, which often have unique trees of their own, including fruit trees, elms, oaks, cedars, maples, and many others!
Everywhere you look there are interesting trees to see! Today we're going to talk about some of the most interesting and notable trees around, Portland's Heritage Trees!
What is a Heritage Tree?
The Portland City Council maintains a listing of trees that are unique and notable due to their:
Size

Historical importance

Horticultural interest

Other unique values
Together, these special trees are known as Portland's Heritage Trees! Altogether, since the program began in 1994, more than 300 trees have been added to the Heritage Trees database and more are being added every year! There are even extra-special trees that are known as Trees of Merit.
How Does a Tree Become a Heritage Tree?
Anyone can nominate a tree as a Heritage Tree! Every year, dozens of applications are received and only the most interesting and important trees are added to the registry. Here's how the nomination and approval process works:
To nominate a tree start by

completing and submitting this form

before May 1st.

During June, the tree will be inspected to see if it should move forward in the process

During the Fall, the Urban Forestry commission reviews and approves a select few trees to join the Heritage Tree registry!
Visit Portland's Heritage Trees!
Now that you know what Portland's Heritage Trees are, how and where can you see them? Heritage Trees are found all over town– in private backyards, in city parks, in cemeteries, and pretty much everywhere you look!
Each Heritage Tree in Portland is marked by a commemorative plaque detailing important facts about the tree, including its species and when it was certified as a Heritage Tree. Of course, just walking around looking for trees with plaques nearby isn't the best way to see the variety of Heritage Trees that are on display.
Luckily the City of Portland Parks Department provides a few great resources!
Heritage Tree Maps and Guides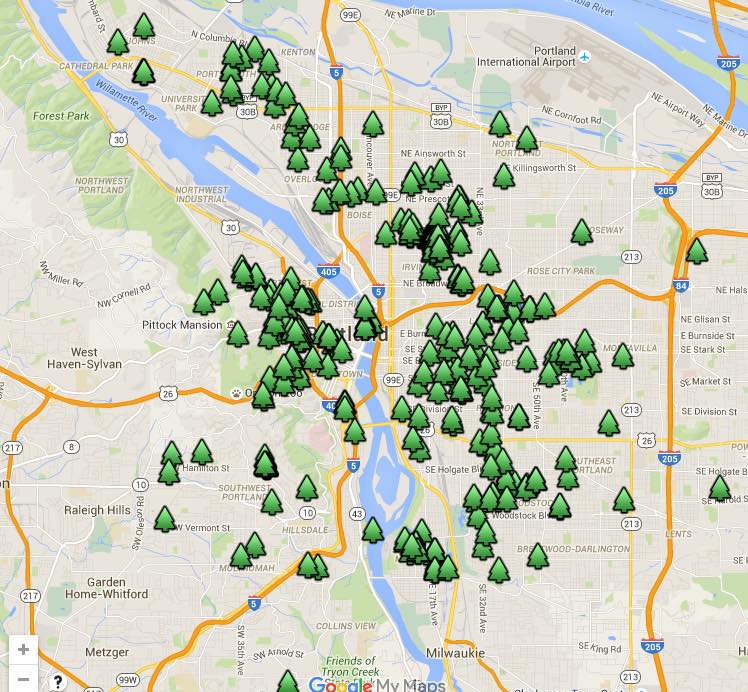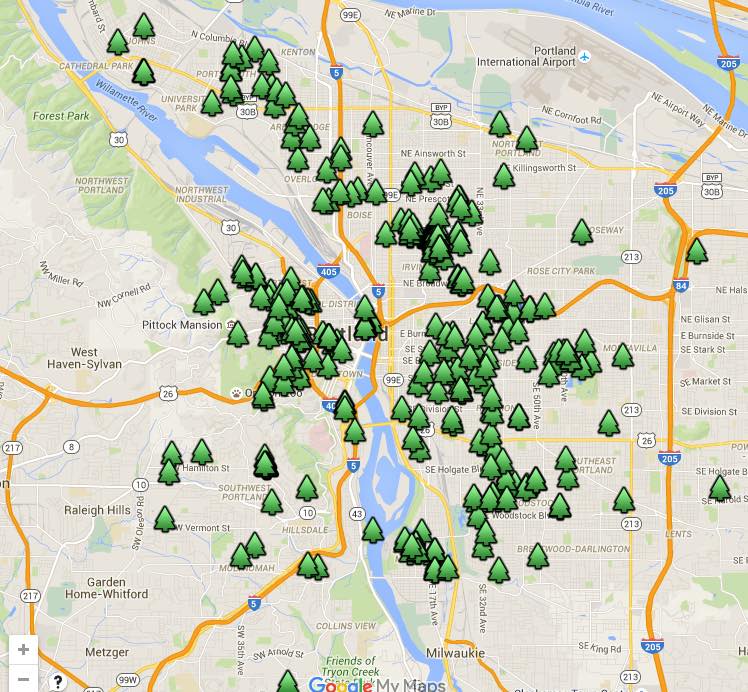 When you're at your computer, check out this great map featuring all of Portland's Heritage Trees! You can zoom in and even see pictures of the trees, right on the map!
You can also take a look at lists of trees by:
If you prefer paper to a computer screen, check out this downloadable, printable guidebook to Portland's Heritage trees. It features over 60 pages of maps, pictures, and information about Portland's most special trees!
Of course, when it comes to Portland's Heritage Trees, there's also an app for that! You can download the PDX Trees App for your iPhone. It's 100% free and includes interactive maps and lots of great information!
Heritage Tree Walking Tours
While you can plan out your own route to visit Heritage Trees, there's a great (and free!) book called From Stumptown to Tree Town, a guidebook featuring a walking tour that highlights a few historical Heritage Trees and uses them to tell the story of Portland's history! It's a great resource and you can download it for free right here.
Heritage Tree Podcast
If you're interested in learning more about specific trees, check out the Heritage Tree Podcast, a series discussing the history and importance of some of Portland's most notable trees! The podcast was created as part of a student project at Portland State University and you can listen to all of the episodes and read more about the project here.
A Few of My Favorite Heritage Trees!
While there are about 300 Heritage Trees in Portland, a few stand out to me:
Corbett Oak at Heritage Tree Park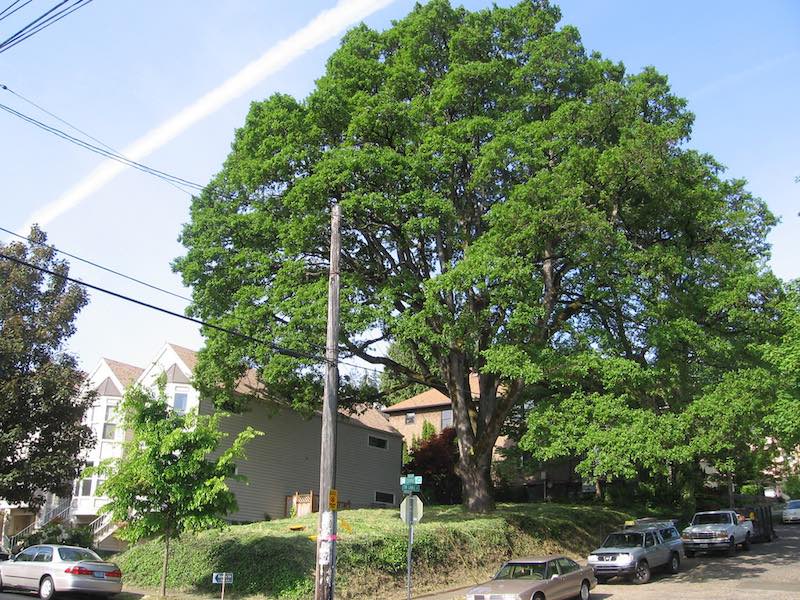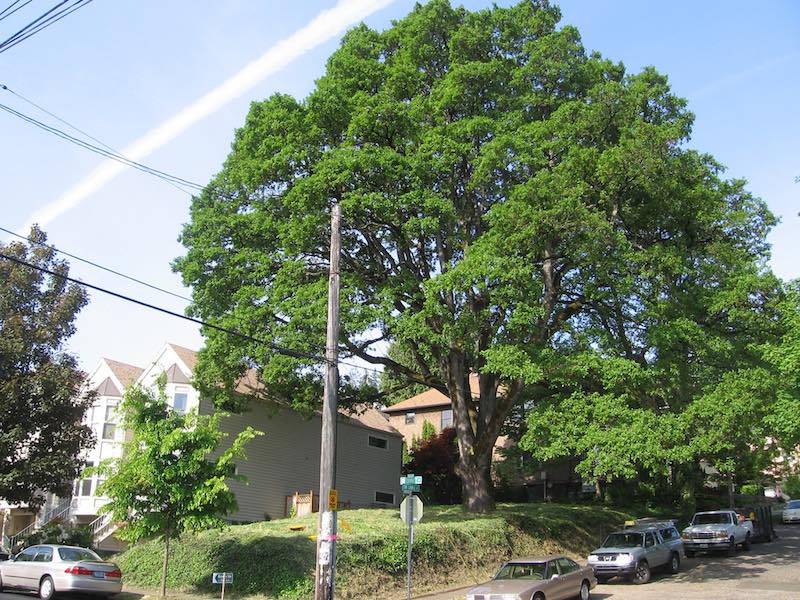 You'll find this beautiful, historic oak in one of Portland's smallest parks, Heritage Tree Park in Southwest Portland!
Osmanthus in the Chinese Garden
Here's a fun one! This Heritage Tree is actually inside of the Lan Su Chinese Garden in downtown Portland. You can't tell from the picture above, but there are high-rise office and apartment buildings less than a block away. The Chinese Garden is a great place to relax amid the hustle and bustle of downtown!
Douglas Fir in Forest Park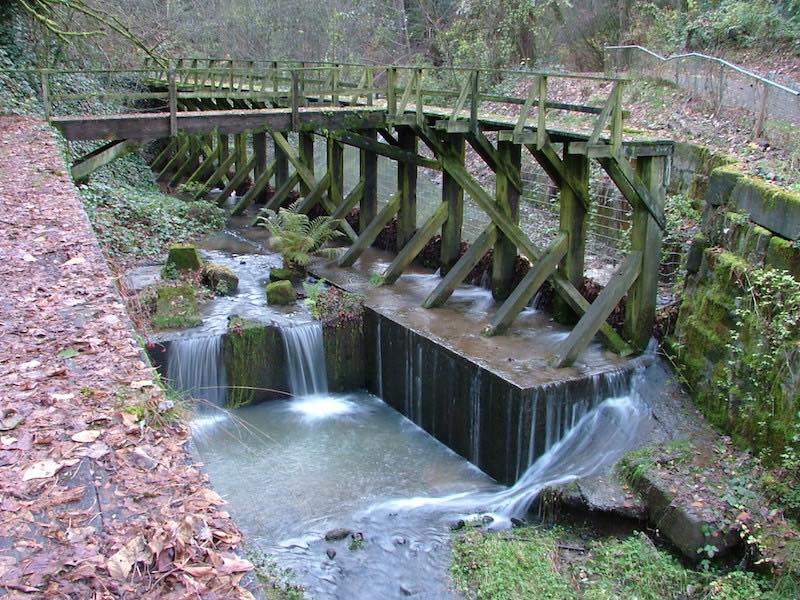 Near Balch Creek in Forest Park, you'll find the tallest Heritage Tree, a Douglas Fir standing nearly 250 feet tall! It's about 100 yards from the stone house on the Lower Macleay trail. If you've never hiked in Forest Park before, you'll love it! The start of the trail is just a few minutes from downtown.
Do You Have a Heritage Tree in Your Yard?
What does it mean to have a Heritage Tree on your property? First the good news! You've got a piece of Portland history in your yard and you should be proud of it. But you also need to be aware of your responsibilities.

Heritage trees can't be removed without approval from both the Urban Forestry Commission and the City Council. Plus you'll need a permit before pruning or cutting any branches from a Heritage tree!
If you have a Heritage Tree in your yard or on your property, contact NW Arbor Culture online or call us at (503) 538-8733 for a free consultation. We can help you figure out if your tree is healthy or if it needs a little TLC!
We have over 30 years of experience caring for trees in the Portland area and know how to make sure your tree lives a long, healthy life.
Photo Credits: brx0, Jonathan Miske, Nick Fisher, D Coetzee
blog comments powered by

Disqus