Monday, May 15th, 2017
The Pacific Northwest, including the Portland area, is home to some of the biggest and most beautiful trees around! But unfortunately, the area is also prone to severe weather, including heavy winds, ice storms, and months and months of drizzly rain. The combination of extreme weather and large trees can lead to big problems.
In today's post, we'll explain what you should do if a tree falls on your Portland home.
Let's get started.
1. Be Safe & Contact Emergency Services
If a tree falls on your home, your first priority is to protect yourself and your family. Remember that your house can be repaired and your property can be replaced. But the safety and health of your loved ones is priceless.
So if a tree falls on your house, make sure everyone is safe. If anyone needs medical attention, don't hesitate to call 911. If the tree brought down power lines as it fell, if you see fire or smell smoke, call the fire department right away! You'll be glad you did.
2. Turn Off The Power & Gas In Your Home
If there's no immediate danger and you know how to; turn off the power and gas in your home. It's a precautionary measure that could stop a fire from starting if the tree damaged a gas line as it fell.
3. Call The Electric Company
Many times, when a large tree falls, it damages power lines which can cause an outage in your area. You should call the power company to alert them of any damage to power lines or power outages caused by the downed tree.
For reference here are contact numbers for Portland area utility companies:
You can call and report downed power lines, power outages, and unsafe conditions.
4. Contact Your Home Insurance Agent
Once everyone is safe and the authorities have been notified, call your home insurance agent. They can help you decide what steps to take next and can help you understand what might or might not be covered by your homeowner's policy.
An insurance assessor will likely come out to your home to inspect the damage before processing your claim. In some cases, you may be able to email pictures of the damage to your insurance agent to speed up the process.
5. Get The Tree Removed & Other Trees Inspected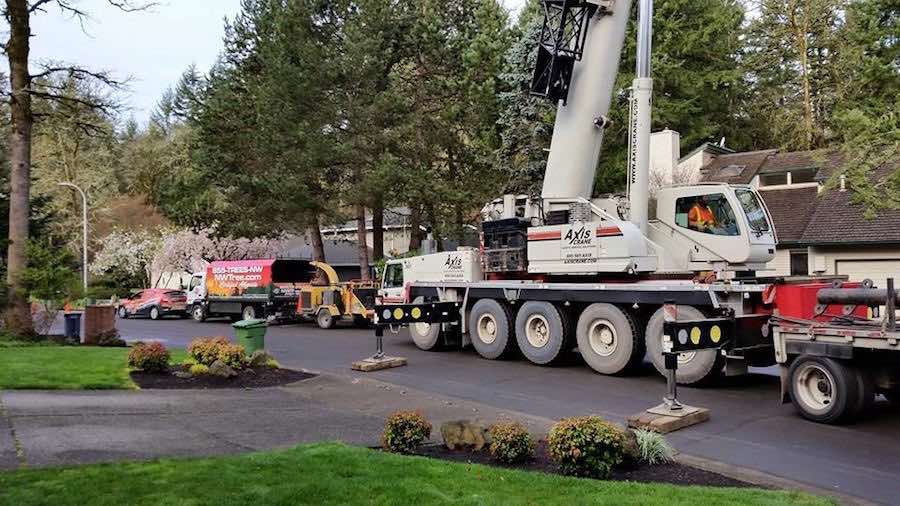 Next, you'll need to have the tree removed by a trusted and experienced large tree removal company, like the team here at Northwest Arbor Culture. We're happy to come out to your home and offer you a free, no-obligation estimate. We can remove large trees and can even grind up and haul away the stump that's still in the ground.
In most cases, you'll also want to have other trees on your property inspected as well. The saying "lightning doesn't strike twice" doesn't apply to falling trees! Changing soil conditions, tree diseases, and other factors can cause multiple trees to be more likely to fall in your yard. You'll also want to pay close attention to any trees that might be near your property line and that might fall on your neighbor's home or yard.
Do not try to remove the tree yourself. Fallen trees are dangerous– especially if they are leaning on your house. Trees can weigh THOUSANDS of pounds and the root ball can act as a counterweight, causing the trunk of the tree to spring back if it is cut free.
For your safety, leave this job to an experienced, certified, licensed, and insured professional.
6. Roof Inspection & Repair
After the tree has been removed, you'll need to find a trusted local roofing contractor to inspect and repair your roof. Depending on the extent of the damage, a partial roof replacement might be required– and might even be covered by your homeowner's insurance policy.
Even if there isn't visible roof damage, your roof should still be inspected. There may be damage under the shingles that could lead to roof leaks later on down the road.
7. Home & Foundation Inspection
Finally, you'll want to have your home and foundation inspected– especially if you see cracks or splits in the foundation. When a tree falls, the extremely large root ball moves as well. This movement can cause damage to the foundation that you might not notice right away. But over time, this can damage the structure of your house or allow moisture and leaks.
A thorough home inspection can identify problems like these and can help you rest a little easier.
Answers To Your Questions
"What If My Neighbor's Tree Falls On My House?"
Generally speaking, when it comes to insurance, your policy pays for damage to your property, no matter whose tree it was. In other words, if a tree falls on your house, contact your insurance company.
"What If My Tree Falls On My Neighbor's House?"
It's likely that you will only be liable if you were negligent about the condition of the tree. You can protect yourself by having the trees on your property inspected, trimmed, and if necessary, removed.
"What If a Tree Falls On A Shared Fence or Property Line?"
The best case scenario is that you get along well with your neighbors and can split the cost of removing the tree and repairing the fence! Both parties involved can contact their insurance companies and let them decide how to handle things.
"How Can I Tell If A Tree Might Fall?"
Dead trees are most at risk for falling. Disease, severe weather, and other factors can also increase the likelihood that a tree will fall. But only the assistance and trained eye of an experienced tree care professional can help you understand whether a tree is likely to come crashing down.
"I'm About To Buy A House. Are The Current Owners Liable For The Trees?"
If you're thinking about buying a home in the Portland area, please take the time to have the trees inspected before you make the biggest purchase of your life! A pre-purchase tree inspection can save you thousands down the road– not to mention a lot of headaches.
Do You Need Help With A Tree On Your Property?
If you're worried that a tree on your property might fall and damage your home, contact Northwest Arbor Culture today. We can inspect your trees and offer our expert advice based on decades of experience as Certified Arborists.
We're here to help you!
---
Photo Credits: TheTurducken, slgckgc, John Whitlock, Phil Denton, pml2008, Wayne Truong, David Ensor, Stig Andersen