How to Protect Your Trees From Extreme PNW Weather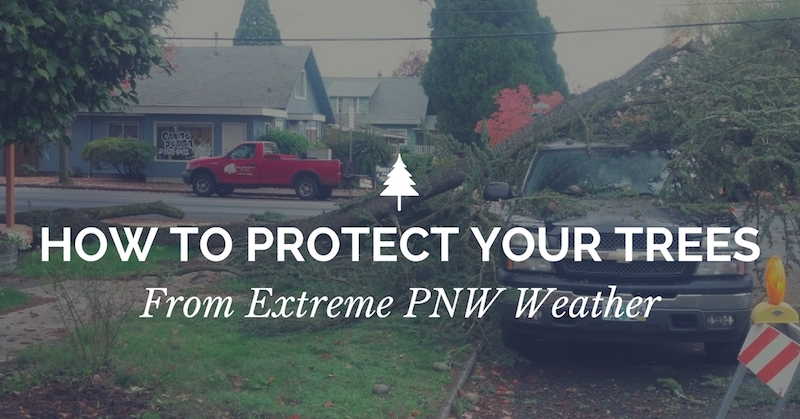 Crippling winter storms, bitter-cold temperatures, increased rainfall, record-high temperatures…here in the Pacific Northwest, we've seen it all. In fact, one report named the Pacific Northwest the country's most extreme weather region in 2017!
As you'd expect, extreme weather conditions can cause problems for trees in Oregon and Washington. Broken branches, root damage, bug problems, and fallen trees are common. Do you know how to protect your trees (and your house and family) during inclement weather?
Keep reading to find out!
---
Have questions about caring for your trees? Ask our certified arborists!
---
Keep Some Tools on Hand
Protecting your trees from inclement weather starts with preparation. Whether you have just one or two trees on your property, or live in a heavily wooded area, keeping your garage or shed stocked with a few important tree care tools is important.
Aim to always have the following tools on hand:
Pruner
Garden stakes
Burlap or tarp
Stakes

Heavy twine
Sharp knife
Mulch
Hose
Keep in mind that working on your trees can be dangerous. If you are dealing with a large tree, or your trees need extensive pruning or care, always call a professional.
Plant Trees When They're Small
When it comes to handling high winds and strong rain, you want your trees to have deep, sturdy roots. As you're adding new trees to your property, it may be tempting to choose a fully-grown tree. However, planting a smaller tree is usually better choice.

Smaller trees will grab onto your soil and develop healthy root systems more easily than large trees. Furthermore, starting small allows you to keep the tree properly pruned (and thus more structurally sound) from the beginning.

Though starting small is great strategy for building up a strong tree, keep in mind that young trees are more susceptible to weather damage.
How to Protect Young Trees from Weather Damage
There are a few steps you'll need to take to keep small trees safe from the elements.
Here's what you should to do protect young trees from the cold
Step 1: Cover your tree with burlap, tarp, or a sheet that extends to the ground. This will help trap the earth's warmth. You may need to use a frame or stakes to minimize contact between the cover and your tree.
Step 2: Water your tree well. Though it may seem counterintuitive, keeping your tree well-watered will help it absorb more solar radiation than dry soil and help it stay warm at night.
Step 3: After a freeze avoid pruning the tree until warmer weather.
Young trees are also very susceptible to sun scald. Sun scald usually happens during colder months and occurs when tree bark gets hot from the sun, and then rapidly freezes off when the sun disappears at night.
Here's how to prevent sun scald on young trees:
Wrap the tree trunk with a tree wrap, plastic tree guard, or any light-colored material
Keep the wrap on the tree through the late fall through early spring
If your tree experiences sun scald damage (which appears as elongated, sunken, dried or cracked areas of bark), cut back the dead bark until you reach live tissue
Give Your Tree Room to Grow
Something else to consider when planting trees is how large they will eventually grow. If your species of Oregon tree will grow to have a wide canopy, don't plant them too close together. You don't want your trees to have lots of overlapping branches once it's fully-grown, as this makes it more susceptible to weather damage.
You also need to give your tree plenty of ground space. Did you know that roots can occupy an area 4 to 7 times the surface area occupied by the top of your tree? Your tree needs room to grow deep roots and become sturdy enough to weather any storm.
Wrap Your Trunks
Although young trees are much more susceptible to weather damage, thin-barked trees can experience cold-weather damage as well. Common thin-barked species include linden, ash, and maple trees.
For these types of trees, or young trees that are very tall, there's no need to cover the entire tree. Instead, you should just focus on wrapping the trunk.
How to Wrap a Tree Trunk
Use a thick, brown paper. Trunk wrapping material can be found at your nearest hardware store.
Start at the bottom! If you wrap from the top down, the overlaps will be facing upwards, making it easier for moisture to sneak in.
Bury the end of the wrap in the soil. After it's secured in the ground, start wrapping upwards in a shingle effect. Wrap it only as far as the lowest branches, then loosely secure with tape or twine.
Don't leave the wrap on for too long. This can trap moisture and cause pest problems. Here in the Pacific Northwest, keeping your tree wrapped from November through March is usually fine.
Prune Proactively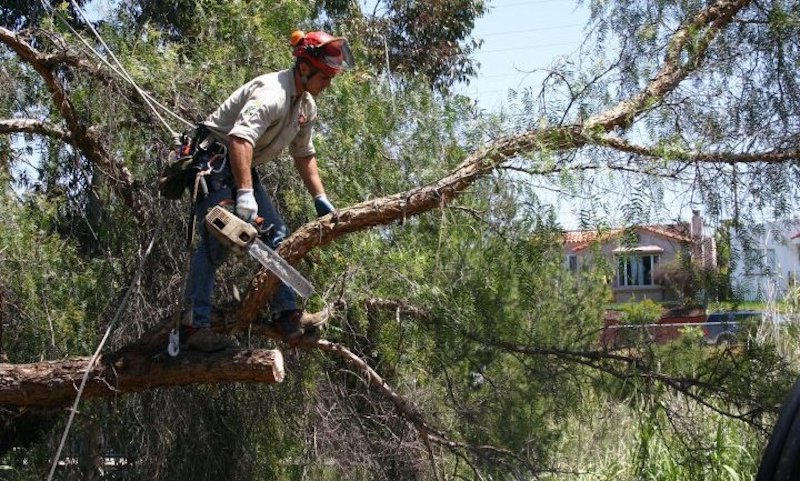 Regular tree pruning is the best way to manage the health of your trees. It's also important for preventing damage (to your home and property and to the tree) during extreme weather. There are a few specific types of weather-proofing trimming you should consider for your trees.
Wind Sailing
Wind sailing is a type of trimming that entails removing select branches from your tree's crown so it can bend and move more easily in the wind. This in turn prevents breakage of its roots and stem. This pruning method is best for deciduous trees.
Deadwooding
This method of pruning focuses on all the major deadwood in your tree. Removing deadwood is good for your tree's health and greatly reduces the chance of it breaking and falling during extreme weather.
Standard Trim
A standard trim focuses on thinning out your tree and removing excess growth. This method of pruning also raises and steadies the canopy of your tree. All these things will help reduce liabilities during extreme weather by encouraging proper balance throughout the entire stem of your tree.
Don't Be Afraid to Get Help!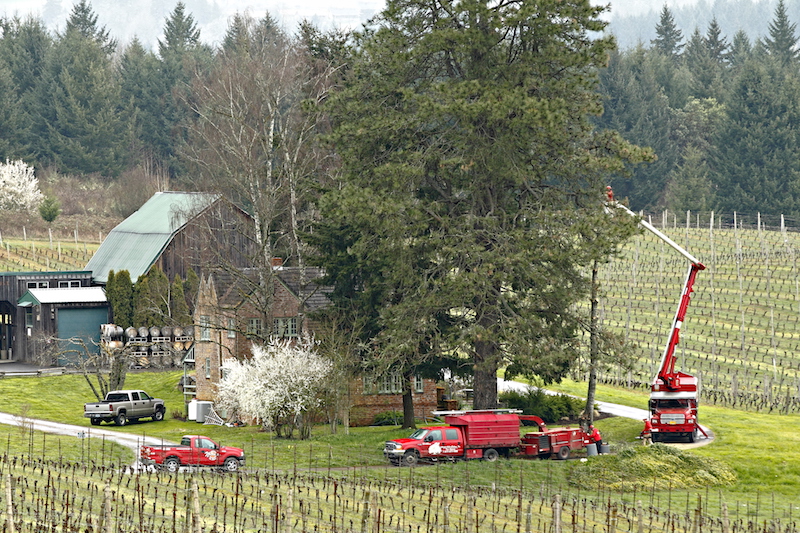 If despite your best efforts your trees have taken a hit after cold weather or storm and aren't doing well, seek help from a professional. In fact, especially when it comes to pruning, it's always better to get the help of an accredited, certified Portland arborist.
An Arborist is your tree's doctor and can help you not only fix an issue, but prevent problems from occurring in the first place.
Here at Northwest Arbor Culture, we've been helping homeowners care for their trees through extreme weather conditions for over 17 years. We offer the full spectrum of professional tree services and are committed to helping you understand how to properly care for your trees and protect your property.
---
We've helped hundreds of Portland homeowners protect their trees from extreme weather damage!
---
blog comments powered by

Disqus